Can your tools match up with the Turbo Weed Twister?
Muscles Optional - Chemicals Obsolete

Ergonica WEED TWISTER vs. Dandelion (Taraxacum) and other Lawn Weeds

See more Weed Twister Videos!

With the Turbo Weed Twister, your drill does the twisting to easily vanish dandelions, milkweeds, mallow and so many weeds that invade your precious lawn or flower bed. Weed whackers only clip the tops of weeds - this Weed Twister pulls and lifts the entire plant and roots. Get the job done the right way! See more Weeding Tools Videos.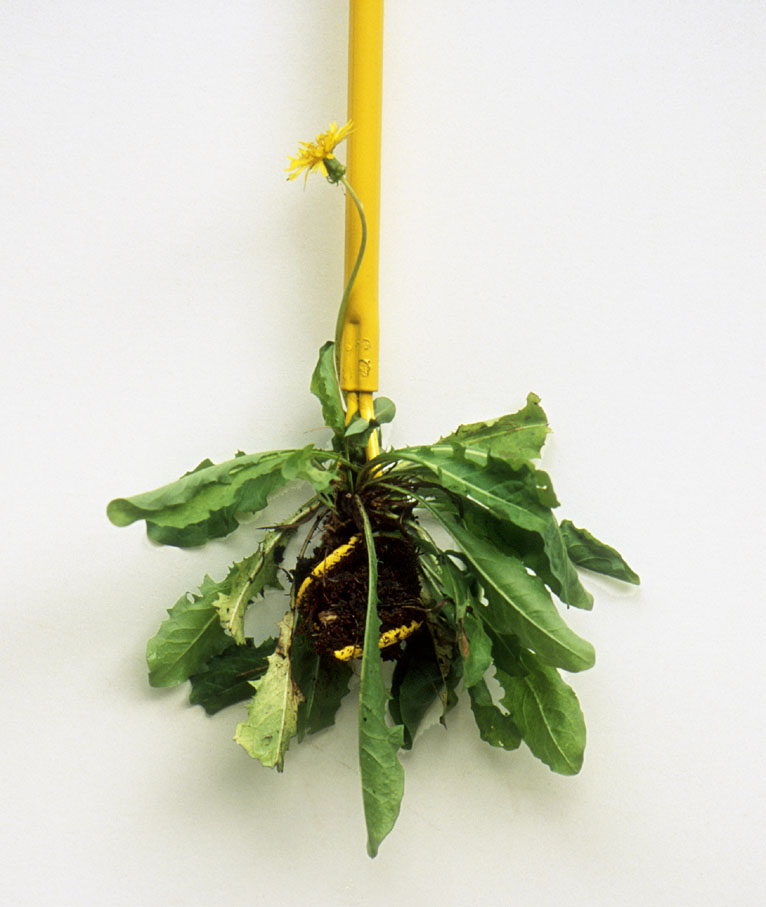 The entire tap root of the Dandelion and many other broadleaf weeds with roots as deep as 6 to 12 inches or more (depending on tool length) cannot resist the "twister" dance of the Ergonica WEED TWISTER!


Identify Noxious Weeds in your state or region with photos and features...
How to Control Dandelion Invasion?
Because dandelion seed can be windborne for several miles, prevention of new infestations is difficult. Solitary new dandelion plants along fence rows, roadsides, flower beds, and in turfgrass should be grubbed out (digging out the entire plant, taproot and all) before they produce seed. In the home landscape, dandelion plants can easily be grubbed out, especially when they are young. Dandelion knives and similar specialized tools are available for removing individual weeds and their roots while minimizing soil disturbance. Control dandelion plants before they set seed to reduce the potential for further invasion by this weed. No single control procedure has been successful in controlling dandelion in turfgrass. Early grubbing of new seedlings has been successful when practiced diligently. These plants must be dug up regularly for several years to be successfully eliminated. Spot spraying isolated plants with glyphosate can be helpful, but the turfgrass is killed, leaving open areas. Overseed the open spots to establish a vigorous turf sod.
Dandelion, Taraxacum officinale, is probably the most widely recognized turfgrass weed. It is a weed that was imported as an ornamental plant from Europe. Dandelion seed was available to the pioneers for ornamental plantings and were sometimes used on the roofs of sod houses to make them stand out on the prairie. Dandelions can be controlled by hand pulling or digging when small numbers are present. Use a dandelion digger to cut the taproot off 4-5 inches below the crown of the plant to prevent regrowth. Herbicide applications are another common way to control dandelions. If only a few weeds are present in a lawn or landscaping bed, then apply a spot treatment. Spot treatment involves spraying each individual weed, and not broadcasting herbicide over the entire lawn. In lawns and landscaping beds, 2,4-D can be used but will damage surrounding shrubs and other ornamental plantings if accidentally sprayed, or if spray mist drifts to them. So use it cautiously! Be certain you read all the label instructions and follow them carefully including the use of all necessary personal protective equipment.
Dandelion Identification and Control Documents and Tools at Ergonica.net Shopping Catalog
When you're ready to buy your next weed pulling tool ask yourself:
Can it pull out weeds with roots as deep as 6 to 12 inches or greater?
Can it twist out networked grasses, vines and prostrate stems?
Can it also work like a precise hoe against new seedlings and grasses?
Is it a good match against all my most troublesome weeds?
Can it help to reduce my dependence on herbicides?
Is it strong but light weight and easy to carry around?
Does it have a long handle, as long as 36-60 inches?
Can I use my drill to replace manual twisting on some models?
Can my drill-powered tool also be used manually?
If the answer to ALL these questions is YES, Buy It!
See a Big Collection of Unique Garden Weeding Tools by Ergonica!